After that heartbreaking, gut-wrenching, make you want to gouge your eyes out with a spork loss, I was just thinking about the good things from our favorite 2-3 team on Monday night. I find it's best to spend a little time reflecting on the good points after a loss this painful in order to keep myself from dwelling on the negatives (and there were oh so many from this game) and ultimately asking myself, "After 20 years of heartache, why do I keep foolishly hoping for and expecting a Super Bowl win by the Saints?"
1. How about that bone-crushing hit by Jo-Lonn Dunbar to spring Reggie on the first punt return TD? That was a thing of beauty by an undrafted player that barely got onto the roster. I know he caught the Viking player off guard, but it was awesome to see him emerge from the left side of my TV screen and lay the smack down on that guy. On NFL Network's top ten plays of the week, it made no. 2 and it was mostly because of that awesome block. Dunbar has a had a few big plays so far this season, including a key TD pass break-up last month.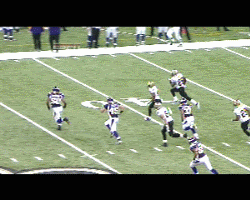 2. How about the Saints D holding the most feared running back in the league to a mere 32 yards on 21 attempts? All I heard all week was how Adrian Peterson would be a sure-thing fantasy start because he was going against an awful Saints defense. Even though we lost, that will earn the much-criticized Saints D some respect points across the league. I know we still have our problems in pass defense (now especially after losing Porter), but the run D is stout.
3. How about the Saints actually converting some 3rd and 1 and a 4th and 1 play for a change? Payton was a little less conservative on one of those as they threw a short pass to Reggie to the right for a big gain. Have I mentioned that it's great to have Deuce back?
4. Let's all thank our lucky stars that Drew Brees is still our quarterback. That sack he sustained for the fumble was a little scary to me. When I saw it, I didn't care at all about the turnover. I was just saying, "Please get up, Drew... please get up, Drew." That was a big hit to his blind side and to his surgically-repaired throwing shoulder. Plus, he landed pretty hard on his left shoulder. That could have been much worse. All of us around here know well that if Brees goes down, the season is definitely lost. The O-line has got to step up and do a better job. I can't remember if that was after Stinchcomb left the game. I think it was Strief filling in on the right side at the time with Billy Miller, who totally missed his block. I'm very thankful Drew wasn't seriously injured on that play. I like Brunell, but he's no Drew Brees.
I know these pleasant observations don't count for much when the team fails to come away with the W, but it helps to think about the positives sometimes. The season is by no means lost at this point. The Falcons won't continue to get surprise wins like they have thus far and the Panthers and Bucs aren't that great either. Hopefully, by the time Colston, Shockey, Nesbit, and Ellis return to the line-up, the Saints will be back on track. If they can find a way to avoid the injuries and bone-head mistakes, things will be looking up by the time they get to London.