Sometimes having the best defense doesn't always mean you are guaranteed a title. Though the Pittsburgh Steelers have won four times with the top rated defense in points allowed, the Dallas Cowboys have won six total titles despite never once having the top rated defense in points allowed in their entire franchise history.

Here is a list of some of the greatest defenses in pro football history to have not won a title during their magical seasons.





1967 Los Angeles Rams



This was the heyday of the Fearsome Foursome, maybe the greatest defensive line in pro football history. It is also the only year they finished first overall in defense, giving up 14 points per game.

The Rams finished first again in 1974 and 1975, and only Merlin Olsen was left from the legendary line. A true statement of his greatness. There were five members of the defense to make the Pro Bowl that year, Olsen, Deacon Jones, Roger Brown, Maxie Baughn, and Eddie Meador. The offense was the top ranked in the league and boasted five Pro Bowlers, Tom Mack, Roman Gabriel, Bernie Casey, Jack Snow, and Les Josephson.

Olsen, Jones, and Mack are inducted into the Pro Football Hall of Fame, and Baughn, Brown, and Meador should be as well. Under their second year head coach, Hall of Famer George Allen, the Rams were dominant by posting an 11-1-2 record under the defensive genius.

They then were soundly beaten 28-7 by the Green Bay Packers in the NFL Division Title Game just two weeks after having beat them 27-24. It may be the best team to have never won a title. Many Rams from that era say it was the best team they ever played on.





1975 Los Angeles Rams




They blew through the season at a 12-2 record, beating the eventual champion Pittsburgh Steelers 10-3 in the last week of the regular season.

The defense gave up a paltry 9.6 points per game, and put five men, Merlin Olsen, Jack Youngblood, Fred Dryer, "Hacksaw" Jim Reynolds, and Isiah Robertson in the Pro Bowl. The offense saw Tom Mack, Harold Jackson, and Lawrence McCutcheon also went to the Pro Bowl. Olsen, Youngblood, and Mack are members of the Pro Football Hall of Fame.

They made it to the NFC Championship before Hall of Fame quarterback Roger Staubach threw four touchdown passes, including three to Preston Pearson, in leading the Dallas Cowboys to a 37-7 win.

Though they fell a game short of the Super Bowl, they had a season worth remembering.







1977 Atlanta Falcons




Before the famed "46" Chicago Bears defense, there was the "Gritz Blitz". The philosophies were the same. You sent EVERYONE at the quarterback on virtually every play. The Falcons gave up a measly 9.6 points per game, yet this was a team of understated superstars. Only Claude Humphrey and Rolland Lawrence, along with punter John James, made the Pro Bowl off their defense.

The Falcons problem that year was offense, which finished 25th out of a then 28 team league. They averaged just 12.8 points per game, which helped Atlanta go 7-7 that year. A little more offense could possibly have taken them a long way that season.








1979 Tampa Bay Buccaneers



The Buccaneers of the 1970's are most remembered for winning just one game between 1975 and 1976. People tend to forget they turned it around by the end of the decade. Led by Hall of Famer Lee Roy Selmon, their only Pro Bowler that year, the defense was ranked first in the NFL. They gave up just 14.8 points per game.

Making it all the way to the NFC Championship Game, they fell short by losing to the Los Angeles Rams 9-0, thanks to their quarterbacks completing just four passes on 26 attempts.

They weren't the prettiest team to watch that season, but they had many fans cheering them on because of their underdog status that was enhanced by their awful beginnings.









1945 Washington Redskins



Eerily similar to the 1943 Redskins team that finished first in the NFL in defense, but lost to the Chicago Bears in the championship game.

What makes this team different is that they started six rookies, including two rookie left tackles that split time. They also has two players with one year of experience and one player with two years of experience. The entire roster had just 2.4 years of experience as a whole.

What they did have was Hall of Famer "Slinging" Sammy Baugh at quarterback, safety, and punter. Baugh and rookie running back Steve Bagarus were the only Redskins named First Team All-Pro. Bagarus was out of the NFL by 1948.

The Redskins made it to the NFL Championship Game, but lost to the Clreveland Rams 15-14. Baugh was hurt in the game, missing most of it, but not before making history. He threw a pass out of his own end zone and hit the goal posts that used to stand on the goal line at the time. It was ruled a safety, where the rule was changed soon after the game that would determine passes like that would be dead balls or incomplete passes.

The team gave up just 12.1 points per game that year, and Baugh's four interceptions for 114 yards led the team. A surprising team that no pundits could have foreseen them having the successes they ultimately had.








1964 Baltimore Colts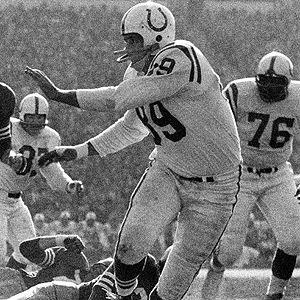 This may have been one of the greatest Colts teams ever. Hall of Famer Don Shula was in his second season as a head coach, and he had Pro Bowlers Johnny Unitas, Lenny Moore, Jim Parker, Raymond Berry, Dick Szymanski, and Bob Vogel on offense. Unitas, Moore, Parker, Berry, and John Mackey were members of that offense that were later inducted into Canton.

The defense was good too. They finished first in the NFL, giving up 16.1 points per game and has a plus 22 Takeaway/Giveaway Differential. Hall of Famer Gino Marchetti made the last of his 11 Pro Bowls that year at the age of 37. Bobby Boyd was the only other defensive player to make the Pro Bowl.

They made it to the NFL Championship Game after posting a 12-2 record. They ran into the Cleveland Browns in the title game, who dismantled them in a 27-0 victory. Though other Colts teams won championships, the 1964 team was as good as them.








1992 New Orleans Saints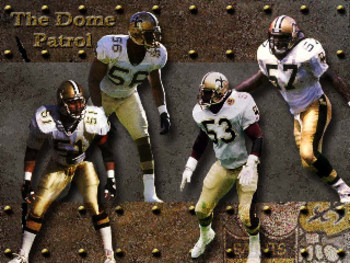 Much like the 1991 Saints that were ranked first in defense, giving up just 13.2 points per game, the 1992 team ranked first and gave up just 12.6 points per game. They were called the "Dome Patrol".

All four of their starting linebackers, Ricky Jackson, Sam Mills, Vaughn Johnson, and Pat Swilling, made the Pro Bowl in 1992. Jackson is a member of Canton. They weren't as good at creating turnovers as the year before, having a plus 9 Takeaway/Giveaway Differential as opposed to plus 18 the year before, but they could get at the opposing quarterback. The starters got at them 54 times that year, led by defensive end Frank Martin's career best 15.5 that year. They got 45 the year before as a starting unit.

What always hurt them was a lack of offense, which helped them get bounced out of the first round of the playoffs each season. This lack of postseason success has left these great defenses largely forgotten in the annuals of NFL history.







1967 Houston Oilers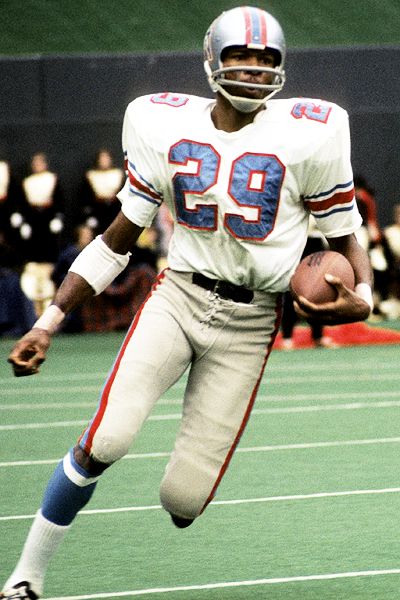 This is the only team in franchise history to finish first in their league in defense, giving up just 14.2 points per game. The offense scored just 18.4 points per game, which gave them a 9-4-1 record.

The defense had four Pro Bowlers, Jim Norton, Miller Farr, Pat Holmes, and George Webster. They also had a rookie who turned out to be the greatest strong safety in football history in Hall of Famer Ken Houston. The offense sent Bob Talamini, Walt Suggs, Woody Campbell, and Hoyle Granger to the Pro Bowl.

They then faced the Oakland Raiders in the AFL Championship Game, and were destroyed 40-7. The offense coughed up the ball three times, and were shut down to just 146 total yards. Oilers fans may remember their team going to the first two AFL Championships and winning in 1960 and 1961, but the 1967 team was very good in their own right.








1980 Philadelphia Eagles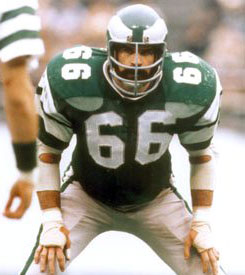 Head coach Dick Vermeil came into town in 1975, and quickly built a winner. The 1980 and 1981 teams both finished first in the NFL in defense.The first Eagles defenses since 1950 to reach this status, and the last so far.

The 1980 team is best remembered for reaching Super Bowl XV before losing to the Wild Card Oakland Raiders 27-10. The defense had just one Pro Bowler that year, nose tackle Charles Johnson, but they did also have such gridiron greats like Bill Bergey and Claude Humphrey along with excellent players like Carl "Big Daddy" Hairston, Frank LeMaster, John Bunting, Jerry Robinson, and Herman Edwards.

The offense had Pro Bowlers Ron Jaworski and Harold Carmichael, along with Wilbert Montgomery, Stan Walters, Jerry Sisemore, Guy Morriss, and Wade Key. It was a solid squad that scored 24 points per game and gave up just 13.9 points per game.

Though they did not win it all, this team holds a special place in Philadelphia lore. Fans saw this team grow up year by year into a force to be reckoned with.









1968 Kansas City Chiefs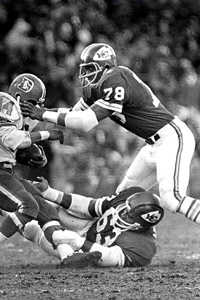 Hall of Fame head coach Hank Stram had four teams in Kansas City, 1968 and in their 1969 championship year, finish first in the NFL in points allowed. The 1960 Dallas Texans also accomplished this feat in their expansion season, and again in their 1962 championship season.

The 1968 team featured seven Pro Bowlers on defense, Bobby Bell, Buck Buchanan, Emmitt Thomas, Willie Lanier, Johnny Robinson, Jerry Mays, and Jim Lynch. The offense had three in Len Dawson, Ed Budde, and Jim Tyrer, as well as kicker Jan Stenerud. Bell, Lanier, Thomas, Buchanan, Dawson and Stenerud are inducted into Canton.

The Chiefs bolted out to a 12-2 record behind a defense that gave up just 12.1 points per game with a plus 22 Takeaway/Giveaway Differential. They reached the AFL Division Game, but were dominated by the Oakland Raiders 41-6 after coughing up the ball four times.

Though they went on to win Super Bowl IV the next year, the 1968 defense was statistically superior to the team that won it all.








1966 Buffalo Bills



The Bills had just won two consecutive AFL Championships heading into the season behind two top ranked defenses. The 1966 team was again ranked at the top, giving up 18.2 points per game.

The defense featured six Pro Bowlers, Ron McDole, George Saimes, Mike Stratton, Butch Byrd, John Tracey, and Jim Dunaway. The offense had six, Jack Kemp, Wray Carlton, Bobby Burnett, Paul Costa, and Hall of Famer Billy Shaw.

They reached their third straight AFL Championship Game, but were soundly defeated 31-7 by the Kansas City Chiefs. Though modern fans recall the Bills teams that lost four Super Bowls, they shouldn't forget the time that Buffalo won two titles in three tries.






1970 Minnesota Vikings




Most people know the Vikings went to four Super Bowls between 1969 to 1977 without a win, but many forget about the squad that got bounced out of the first round of the playoffs in 1970.

Three defensive linemen, Alan Page, Carl Eller, and Gary Larsen, went to the Pro Bowl, as did strong safety Karl Kassulke. Page, Eller, and free safety Paul Krause, the NFL interception king, are in Canton.

The offense ranked third in the league despite replacing quarterback Joe Kapp with journeyman Gary Cuozzo one year after making it to Super Bowl IV. Running Back Dave Osborn and wide receiver Gene Washington made the Pro Bowl behind a great Vikings offensive line that featured Hall of Famer Ron Yary, Ed White, and Mick Tingelhoff.

The defense allowed just 10.2 points per game and their Differential of 192 points also led the NFL, as did their yards allowed, first downs allowed, passing yards allowed, touchdowns allowed total and passing and rushing, and turnovers forced.

Their 1969 team was comparable in that they allowed a paltry 9.5 points per game allowed, which led the leagues, as did their Differential of 246 points. Though ranked first in points, first downs, and yards allowed, as well as every passing defense category, their run defense and turnovers created that year ranked second.

The 1970 Vikings may have been the best defensive season of the glorious Purple People Eaters.