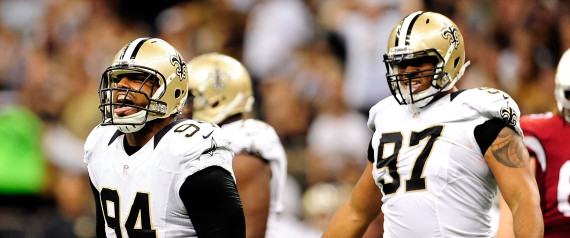 Well, we have not even reached the draft yet, let alone OTA's and training camp. That's okay, I (along with many of you) am so excited for next season, I will take a look at what we have going next year. For the first time since Our Savior Breesus brought this franchise and city out of darkness, I am more excited to see what the defense will produce than the offense. A rising defensive front coupled with a strong secondary could propel the Saints defense into the discussion as the top D in the league. Yes, I suggested the "Legion of Boom" or "Doom" or whatever they call themselves these days could fall behind the Rob Ryan led unit.
This defensive line has a bright future. The Saints average age on the starting defensive line is 24 (with John Jenkins starting) and defensive line backups Tyrunn Walker and Glenn Foster are both under 25 and have shown flashes that could translate, if they develop well, into them becoming above average starters. Cam Jordan was a beast last season and will continue that for many years. Nuf said. Akiem Hicks is a strong DE still developing advanced pass rush moves; however, he is clearly an up and coming player that will be a force for years to come. Multiple Pro Bowls anyone? John Jenkins is the utterly massive, 359 pound, run-stuffing behemoth that should man the middle of defensive line for quite a while. Brodrick Bunkley has gas left in the tank and can still make plays.
Now, the linebackers. I am not quite as sold on this group as I am the line, but still, I have high hopes for this season. The average age for the starting 'backers is 26.5. Curtis Lofton and David Hawthorne are solid, capable starters that will give mostly consistent production and play. It's not Navarro Bowman and Patrick Willis but we are set in the middle for a few more years. Junior Galette was a revelation on the outside last year. He has been a tantalizing project since coming out of Stillman College and through Rob Ryan using him as a 4-3 rushing end and 3-4 blitzing LB, his production skyrocketed into 12 sacks last season. Look for him to continue this stellar production next year. The other OLB spot looks to be going to Victor Butler, a free-agent signing from last year who tore his ACL before the season started. It appears he is back on track and looking to have a strong season. If New Orleans could grab another outside linebacker in the draft to fortify and provide depth, it would just cement the strong linebackers we have. Ryan Shazier out of Ohio State is an option; his speed (ran a sub 4.40 at OSU's pro day) and instincts would make him a good pick.
Finally, the secondary is just gonna be awesome. I know some fans have been complaining about how much Jairus Byrd was payed, but it was totally worth it. He transforms this defense from a good one to a great one. He is a perfect match for Sir Rob and his scheme. Bryd's center field coverage and ability to cover the width of the field as a single high safety frees up Kenny Vaccaro (my man!) to run around and play his physical, aggressive style of football. I liked Malcom Jenkins. He is not Jairus Byrd. Byrd's ball-hawking, turnover creating style is just what we needed. Kenny Vaccaro was a great draft pick last year- he is physical, a great tackler, can cover the slot, is underrated in coverage, and can do everything Robby asks of him. Rafael Bush is an underrated, up-and-coming safety that sees significant action in Ryan's three safety package. Bleacher Report ranked all three in the top 15 of all safeties in the entire league. The safety trifecta and versatility it allows for is one of the league's best. Keenan Lewis is a very good cornerback that can consistently lock down or at least limit the other team's top WR. The playoff game versus Philadelphia when he got injured last season highlighted his important value to the defense. The other corner spot is the biggest question mark on the defense. Corey White has shown flashes (the pick of Laepernick, er, um, I mean Kaepernick comes to mind) but he was eaten up alive by Desean Jackson in that playoff games and may be more suited for nickel duty. If a corner like Jason Verrett or Bradley Roby could be taken in the draft to cover the side opposite of Lewis, the secondary would rival Seattle's.
I have focused mostly on the players until now, but Rob Ryan cannot be praised too much. He transformed the worst stinkin' defense in league history into a top five unit. The coaching and schemes he runs maximize player potential (see Cameron Jordan and Junior Galette). Ryan's swagger and mojo permeate the whole defense and he is what puts together the talent of the individual players into a cohesive, efficient unit. This great coaching and the talented, young players at each level of the Saints defense should propel them into the conversation of the NFL's best defense.
What do you guys think?
WHO DAT!